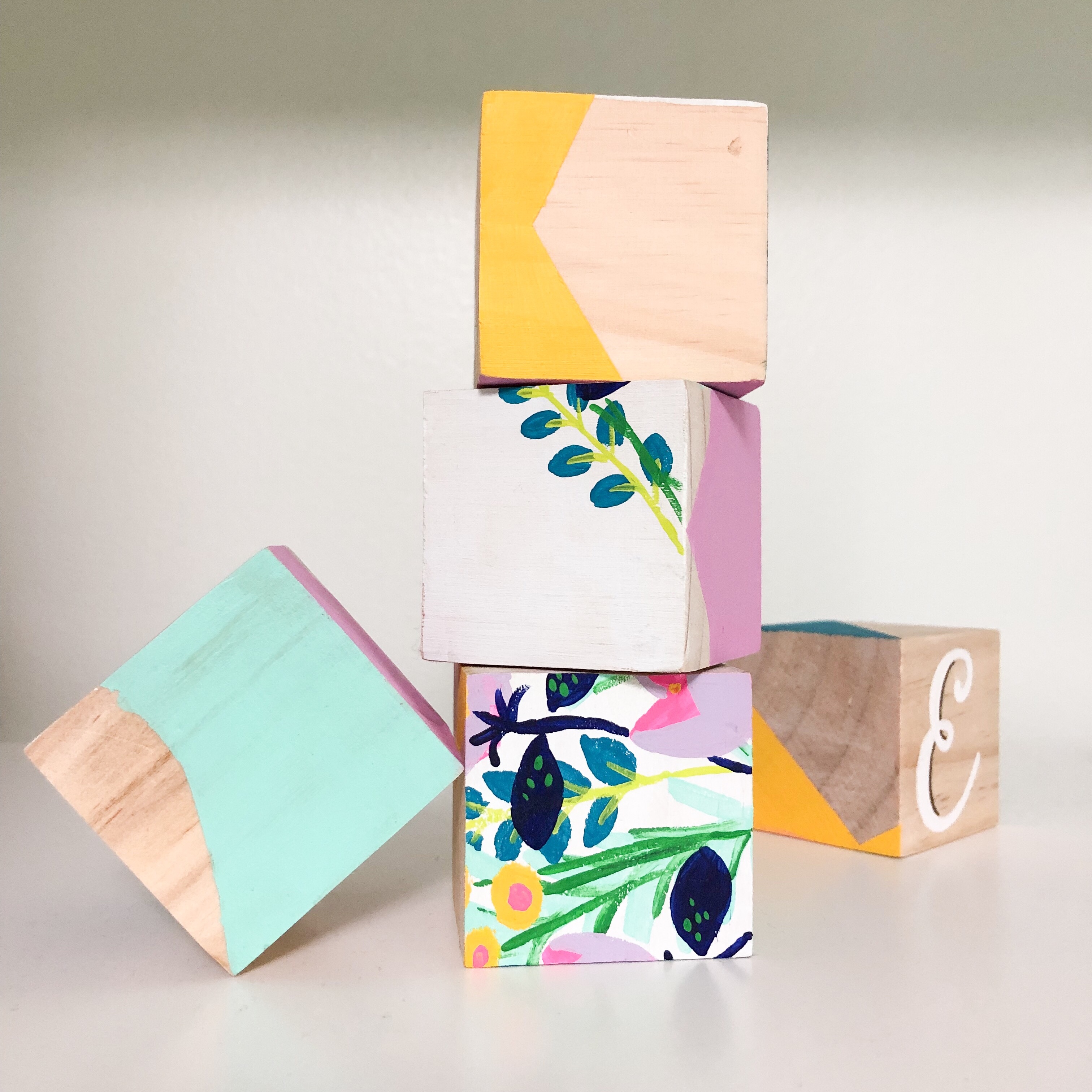 I recently got the idea to make my own cube puzzle after seeing similar items on Pinterest. Many were simple 6-sided puzzles featuring painted shapes or simple designs. Of course I really wanted to make one myself, but also wanted to make it a bit more personalized for my girls. Luckily on one of my many shopping trips to Michaels, I found these great little 2×2″ wooden cubes. They were already pre-cut, sanded, and ready for paint! So I had some fun and created a completely personalized puzzle featuring a floral design on one side.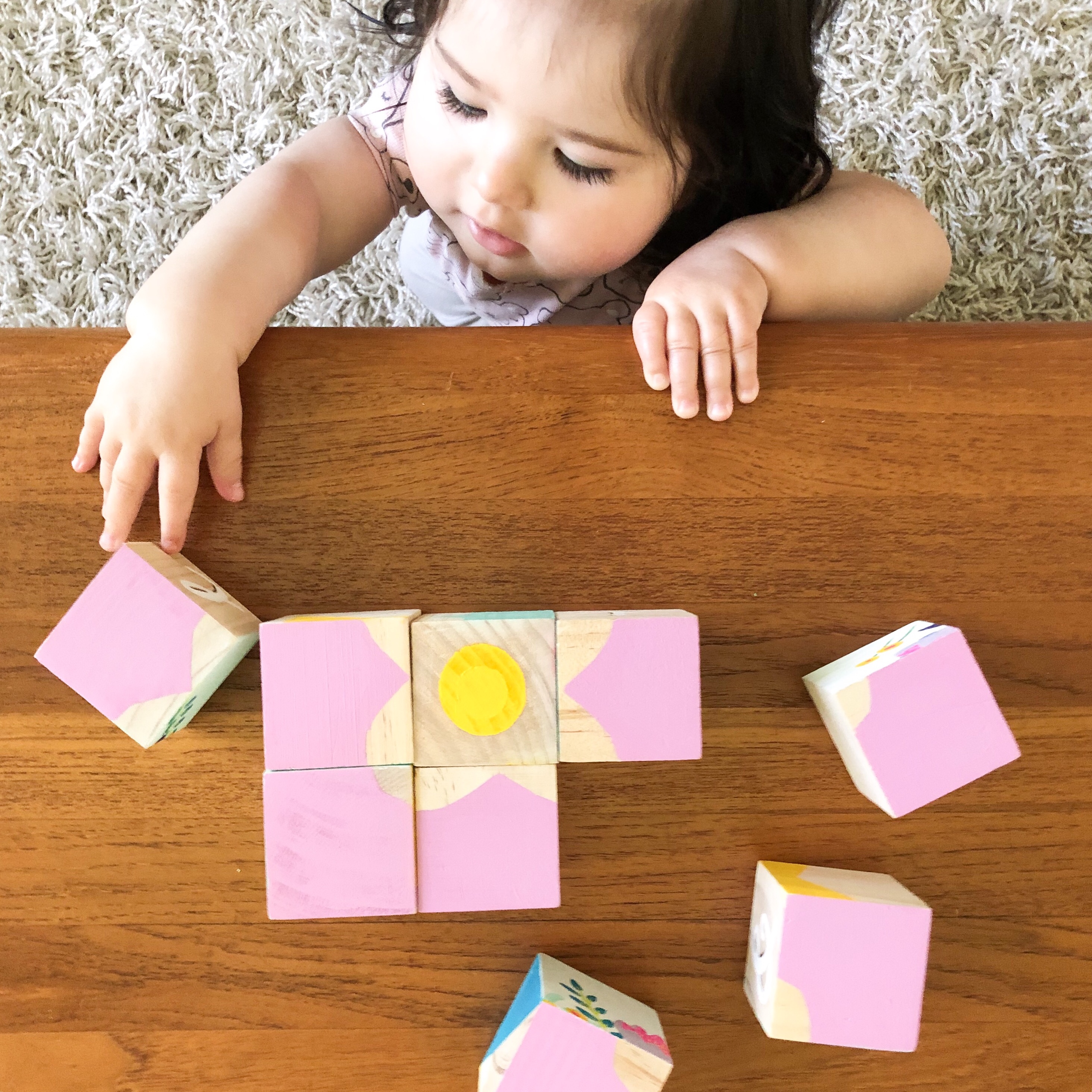 Here's what you need to create your own version:
– 150 grit sandpaper
– multipurpose acrylic paint (I use the FolkArt or Martha Stewart multipurpose paints)
– paint brushes
– painters tape
– a paint pen
– a large rubber band
Start by planning out your designs. I included a few sides with simple shapes, one with diagonal lines, a floral design, and lastly my daughters' names. Prep the cubes by sanding down any rough areas with sandpaper. I noticed after purchasing these cubes and lining them all up that some of them were slightly larger than the others. Drove me a little nuts but I decided to let it go in the end.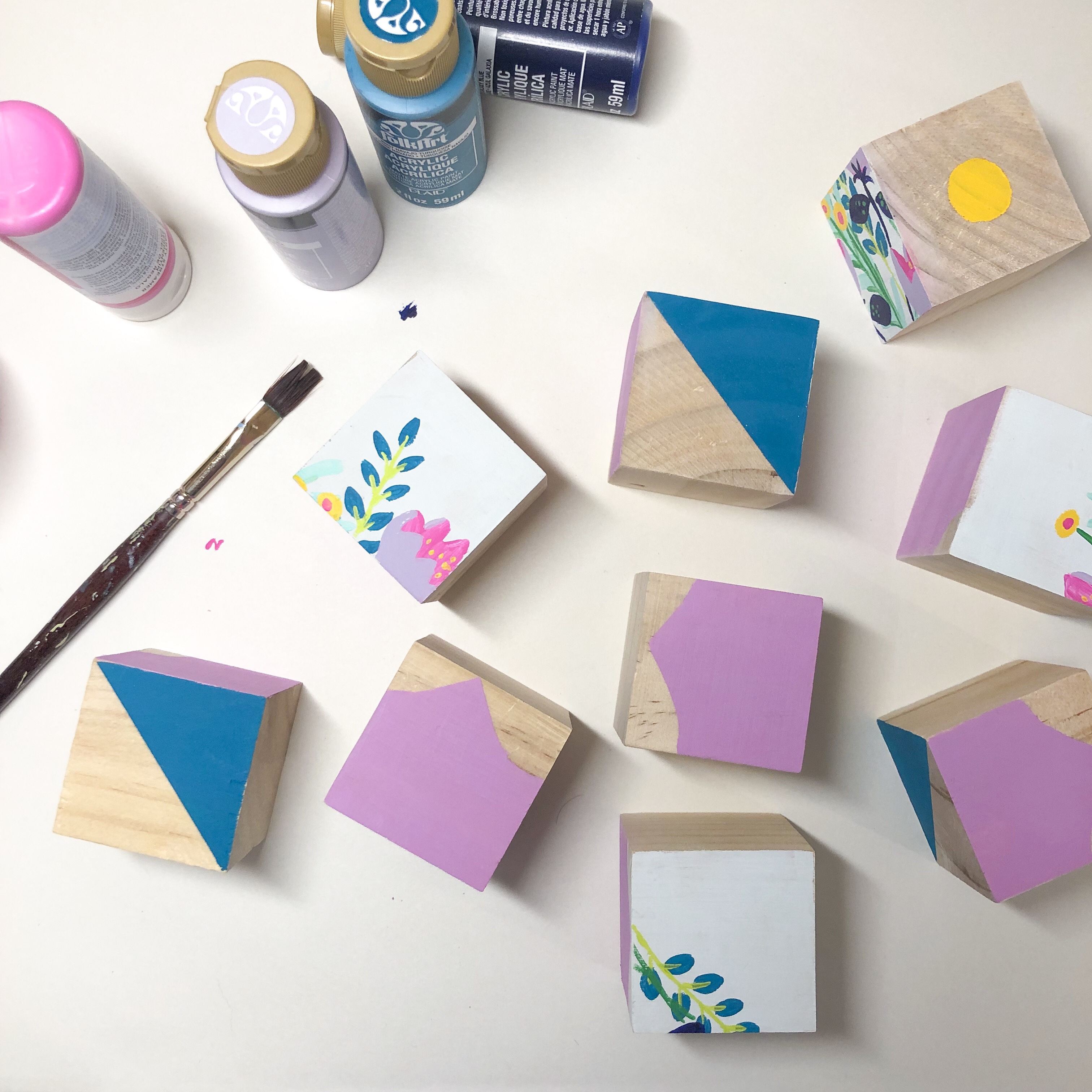 To paint large designs, organize the cubes into a square and use the rubber band to hold them in place. You can paint over the surface of the cubes freehand, or use tape to mask off areas. I used tape to create a simple star, flower, and heart designs. Peel the tape off and allow the paint to dry completely before rotating the cubes to paint a different side. Use sandpaper in between coats to clean up the edges and remove any unwanted paint.
If you really want these to be durable, you may want to add a coat of water based polyurethane. I am leaving mine bare for now to see how they hold up.
I also chose to make one side my daughters' names in faux calligraphy. Using a pencil, I lightly traced letters onto each cube, then traced each letter using a white paint pen. I also added a little accent with a gold sharpie marker.
I really had a lot of fun creating this puzzle for my girls. Not only are the cubes great to play with, they also make a beautiful home decor item. A cube puzzle like this would make an awesome baby shower or first birthday gift. Want more painted DIY projects? Check out my instructions for this Color Block Cookie Jar. As always, be sure to follow me on Instagram and Pinterest for crafty projects, recipes, and activities for your littles.