One of my favorite things to make for my girls is homemade play dough! I have fond childhood memories of making play dough with my mom. I loved picking the colour and kneading the warm dough. I knew when I had kids I wanted to involve them in the same process. Not only is making homemade play dough a sentimental and fun activity to share with my children, but it's also a great money saving play item. Brand name play dough starts at $2.50 and the containers are tiny! With this recipe you get a large amount of dough that can be dyed any colour, or even scented, and is a fraction of the cost. Not to mention when stored correctly it lasts for months!
This is one recipe divided to make 6 colours.
I've tried many play dough recipes over the years and many of them haven't cut it for me. They either dry out too quickly, have an awful texture, or go moldy. I've used this recipe countless times and can completely stand by it.
***This recipe makes a large quantity of play dough. Enough for 4 children.***
Here's what you need to make your own homemade play dough:
2 cups all purpose flour
1 cup salt
4 tsp cream of tartar
1 tbsp oil
2 cups water
food colouring (gel or liquid)
Pour all ingredients (except for food colouring, unless you are only making one colour) in the order given into a medium pot. Stir together on medium-high heat. It will be lumpy, but just keep stirring until the dough forms and begins to stick together into a large ball. Be careful not to let the bottom burn. If you're worried, move the pot off the heat and continue stirring. Transfer dough to a covered work surface (I use parchment or wax paper) and knead for a minute or two. Divide dough into as many pieces as you wish. Add food colouring to each and knead until you achieve your desired colour.
If you only want to make a single colour, you can save time and add the food coloring into your water at the beginning. You can also stir in essential oils, or extracts to make your play dough scented.
I've done the following combos in the past:
Calming dough = Purple + lavender essential oil
Cake dough = Plain white + vanilla extract + rainbow sprinkles
Cinnamon hearts = Pink + ground cinnamon
Candycane = Red and white swirled + peppermint essential oil
Pumpkin spice = Orange + ground cinnamon, nutmeg, and cloves
Floral = Pink + rose water (replace water in recipe)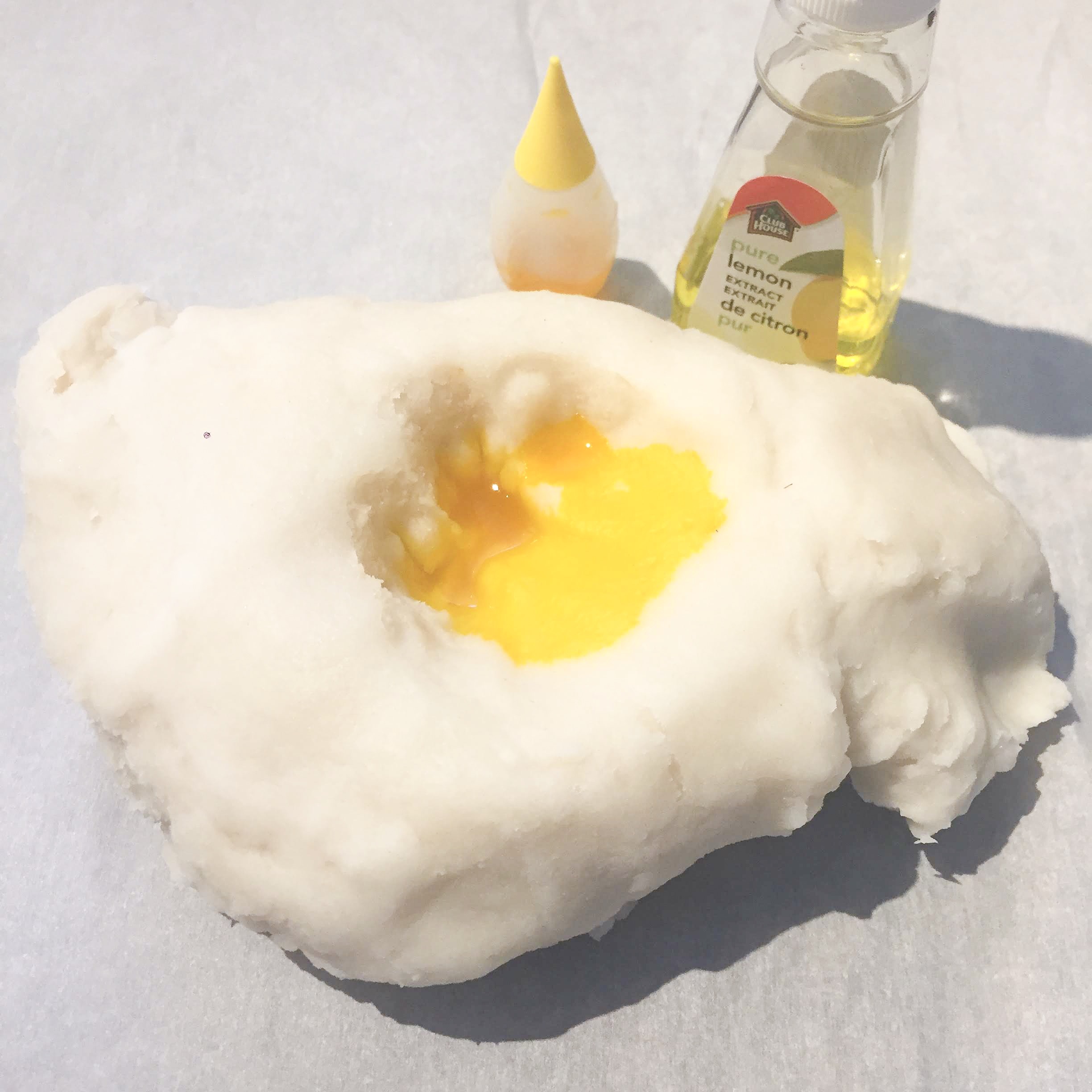 You can also use baking extracts but the scents will be more subtle.
Once the dough is cool, it's ready to play with! Roll, cut, stamp, and mold it. Better yet, include loose parts like wooden beads, seashells, rocks, beads, buttons, and animal figurines. Store the dough in an airtight container or ziplock bag for 2-4 months. This recipe can also be easily divided in half. I usually make the full recipe and share it, or send it to daycare with my daughter.
Want more early childhood play ideas? Check out my past blog posts Easy Bathtime Activities for Toddlers or Why Use Sensory Bins?. Don't forget to follow me on Instagram and Pinterest for lots more DIY projects, crafts, and recipes.